Self-Piloting Nut Electrodes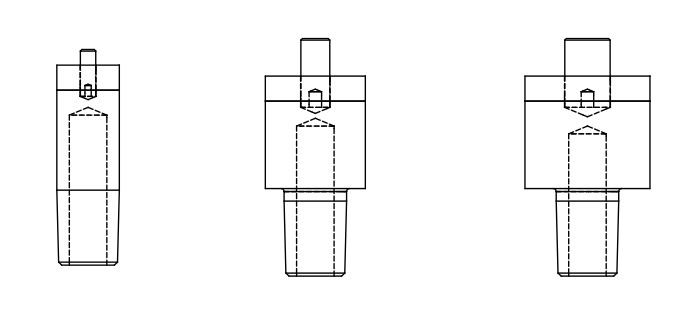 Self-Piloting Nut Welding Electrodes are designed for projection welding nuts. The Self-Piloting version has an fixed pin designed for use for standard nut types.
The insulated pins are treated to 55HRC for wear resistance. All parts have a 10W brazed face to withstand the higher forces of projection welding. The parts have a 5RW taper for use with standard electrode holders.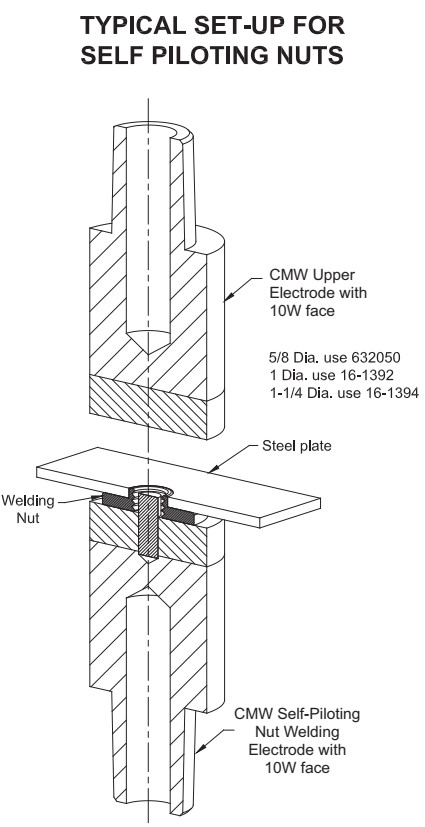 | Part | Description | Face Refractory Material | RWMA Material Type | Engagement to Holder [T] | Overall Length [A] | Weld Face Diameter [B] | Pin Diameter [P] | Pin Length [Q] | For Nut Size | Refractory Material Thickness [I] | Unit of Measure |
| --- | --- | --- | --- | --- | --- | --- | --- | --- | --- | --- | --- |
| 275-16-3765-M6 | 16-3765-M6 CMW | RWMA Class 11 - 10W | RWMA Class 2 - C18200 | 5RW | 2.00000 | 1 | 0.1890 | 0.3750 | 6 mm | 0.250 | IN |
| 275-16-3766-M12 | 16-3766-M12 CMW | RWMA Class 11 - 10W | RWMA Class 2 - C18200 | 5RW | 2.00000 | 1.25 | 0.3880 | 0.3750 | 12 mm | 0.250 | IN |
| 275-16-3766-M10 | 16-3766-M10 CMW | RWMA Class 11 - 10W | RWMA Class 2 - C18200 | 5RW | 2.00000 | 1.25 | 0.3200 | 0.3750 | 10 mm | 0.250 | IN |
| 275-16-3766-50 | 16-3766-50 CMW | RWMA Class 11 - 10W | RWMA Class 2 - C18200 | 5RW | 2.00000 | 1.25 | 0.4150 | 0.3750 | 1/2 | 0.250 | IN |
| 275-16-3766-44 | 16-3766-44 CMW | RWMA Class 11 - 10W | RWMA Class 2 - C18200 | 5RW | 2.00000 | 1.25 | 0.3610 | 0.3750 | 7/16 | 0.250 | IN |
| 275-16-3766-38 | 16-3766-38 CMW | RWMA Class 11 - 10W | RWMA Class 2 - C18200 | 5RW | 2.00000 | 1.25 | 0.3060 | 0.3750 | 3/8 | 0.250 | IN |
| 275-16-3765-M9 | 16-3765-M9 CMW | RWMA Class 11 - 10W | RWMA Class 2 - C18200 | 5RW | 2.00000 | 1 | 0.2910 | 0.3750 | 9 mm | 0.250 | IN |
| 275-16-3765-M8 | 16-3765-M8 CMW | RWMA Class 11 - 10W | RWMA Class 2 - C18200 | 5RW | 2.00000 | 1 | 0.2520 | 0.3750 | 8 mm | 0.250 | IN |
| 275-16-3765-M7 | 16-3765-M7 CMW | RWMA Class 11 - 10W | RWMA Class 2 - C18200 | 5RW | 2.00000 | 1 | 0.2230 | 0.3750 | 7 mm | 0.250 | IN |
| 275-16-3764-04 | 16-3764-04 CMW | RWMA Class 11 - 10W | RWMA Class 2 - C18200 | 5RW | 2.00000 | 0.625 | 0.0820 | 0.0930 | #4 | 0.250 | IN |
| 275-16-3765-31 | 16-3765-31 CMW | RWMA Class 11 - 10W | RWMA Class 2 - C18200 | 5RW | 2.00000 | 1 | 0.2570 | 0.3750 | 5/16 (8mm) | 0.250 | IN |
| 275-16-3765-25 | 16-3765-25 CMW | RWMA Class 11 - 10W | RWMA Class 2 - C18200 | 5RW | 2.00000 | 1 | 0.1920 | 0.3750 | 1/4 | 0.250 | IN |
| 275-16-3764-M5 | 16-3764-M5 CMW | RWMA Class 11 - 10W | RWMA Class 2 - C18200 | 5RW | 2.00000 | 0.625 | 0.1560 | 0.1560 | 5 mm | 0.250 | IN |
| 275-16-3764-M4 | 16-3764-M4 CMW | RWMA Class 11 - 10W | RWMA Class 2 - C18200 | 5RW | 2.00000 | 0.625 | 0.1230 | 0.1560 | 4 mm | 0.250 | IN |
| 275-16-3764-10 | 16-3764-10 CMW | RWMA Class 11 - 10W | RWMA Class 2 - C18200 | 5RW | 2.00000 | 0.625 | 0.1430 | 0.1560 | #10 | 0.250 | IN |
| 275-16-3764-08 | 16-3764-08 CMW | RWMA Class 11 - 10W | RWMA Class 2 - C18200 | 5RW | 2.00000 | 0.625 | 0.1290 | 0.1560 | #8 | 0.250 | IN |
| 275-16-3764-06 | 16-3764-06 CMW | RWMA Class 11 - 10W | RWMA Class 2 - C18200 | 5RW | 2.00000 | 0.625 | 0.1000 | 0.0930 | #6 | 0.250 | IN |
| 275-16-3764-05 | 16-3764-05 CMW | RWMA Class 11 - 10W | RWMA Class 2 - C18200 | 5RW | 2.00000 | 0.625 | 0.0930 | 0.0930 | #5 | 0.250 | IN |