Stud Electrodes

Chameleon Max-Life Stud Electrodes are a flexible system designed for projection welding of studs. The system is designed to maximize flexiblity and minimize tooling costs. The system includes a body, an insulated sleeve and a 10W faced nut weld head. To minimize tooling costs, the weld head or sleeve can be easily replaced the when it is past its useful life. To maximize flexbility, a single body can be used with mulitple sleeves and weld heads. Thus, allowing users to quickly changing the welder to accomodate different stud sizes.
The body has a 1/8-27 port for an air line hookup which can be used to blow weld slag away from the weld face and sleeve.
To maximize the life of the tooling, the Chameleon Max-Life Electrodes are designed to work with the Nut and Stud Welding Cooling Chamber which is installed on the outside diameter of the electrode. It brings cooling water directly to the electrode.
To maximize the life of the Chameleon Electrodes even more, the Nut and Stud Welding Threaded Adpater can be used to mount the threaded versions via 5RW taper. When the taper wears, only the adapter has to be replaced.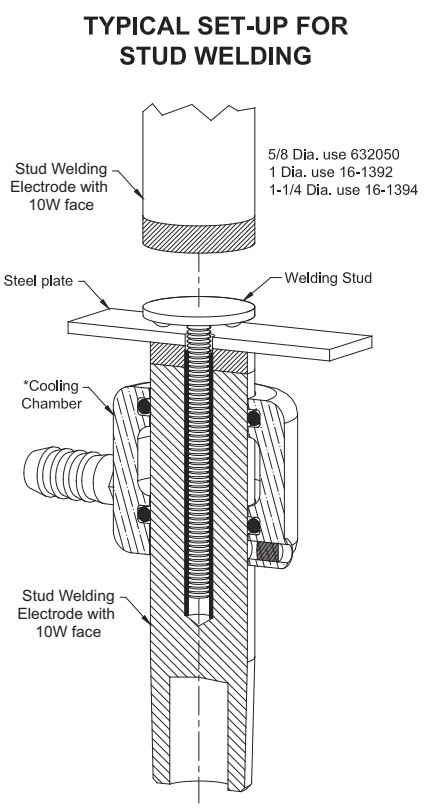 | Part | Description | Face Refractory Material | RWMA Material Type [T] | Engagement to Holder | Overall Length [A] | Weld Face Diameter [B] | Inside Diameter of Sleeve [K] | Length of Sleeve [U] | For Stud Size | Refractory Material Thickness [I] | Unit of Measure | Inlet for Airline [R] |
| --- | --- | --- | --- | --- | --- | --- | --- | --- | --- | --- | --- | --- |
| 275-16-37325-116 | 16-37325-116 CMW | RWMA Class 11 - 10W | RWMA Class 2 - C18200 | 5RW | 2.87500 | 0.625 | 0.11600 | 1.500 | #4 | 0.250 | IN | 1/16 - NPT |
| 275-16-37325-132 | 16-37325-132 CMW | RWMA Class 11 - 10W | RWMA Class 2 - C18200 | 5RW | 2.87500 | 0.625 | 0.13200 | 1.500 | #5 | 0.250 | IN | 1/16 - NPT |
| 275-16-37325-140 | 16-37325-140 CMW | RWMA Class 11 - 10W | RWMA Class 2 - C18200 | 5RW | 2.87500 | 0.625 | 0.14000 | 1.500 | #6 | 0.250 | IN | 1/16 - NPT |
| 275-16-37325-169 | 16-37325-169 CMW | RWMA Class 11 - 10W | RWMA Class 2 - C18200 | 5RW | 2.87500 | 0.625 | 0.16900 | 1.500 | #8 | 0.250 | IN | 1/16 - NPT |
| 275-16-37325-191 | 16-37325-191 CMW | RWMA Class 11 - 10W | RWMA Class 2 - C18200 | 5RW | 2.87500 | 0.625 | 0.19100 | 1.500 | #10 | 0.250 | IN | 1/16 - NPT |
| 275-16-37325-204 | 16-37325-204 CMW | RWMA Class 11 - 10W | RWMA Class 2 - C18200 | 5RW | 2.87500 | 0.625 | 0.20400 | 1.500 | 5 mm | 0.250 | IN | 1/16 - NPT |
| 275-16-37325-243 | 16-37325-243 CMW | RWMA Class 11 - 10W | RWMA Class 2 - C18200 | 5RW | 2.87500 | 0.625 | 0.24300 | 1.500 | 6 mm | 0.250 | IN | 1/16 - NPT |
| 275-16-37325-254 | 16-37325-254 CMW | RWMA Class 11 - 10W | RWMA Class 2 - C18200 | 5RW | 2.87500 | 0.625 | 0.25400 | 1.500 | 1/4 | 0.250 | IN | 1/16 - NPT |
| 275-16-37525-243 | 16-37525-243 CMW | RWMA Class 11 - 10W | RWMA Class 2 - C18200 | 5/8 - 18 | 2.81300 | 1 | 0.24300 | 2.000 | 6 mm | 0.250 | IN | 1/8 - NPT |
| 275-16-37525-254 | 16-37525-254 CMW | RWMA Class 11 - 10W | RWMA Class 2 - C18200 | 5/8 - 18 | 2.81300 | 1 | 0.25400 | 2.000 | 1/4 | 0.250 | IN | 1/8 - NPT |
| 275-16-37525-320 | 16-37525-320 CMW | RWMA Class 11 - 10W | RWMA Class 2 - C18200 | 5/8 - 18 | 2.81300 | 1 | 0.32000 | 2.000 | 5/16 (8mm) | 0.250 | IN | 1/8 - NPT |
| 275-16-37525-380 | 16-37525-380 CMW | RWMA Class 11 - 10W | RWMA Class 2 - C18200 | 5/8 - 18 | 2.81300 | 1 | 0.38000 | 2.000 | 3/8 | 0.250 | IN | 1/8 - NPT |
| 275-16-37526-399 | 16-37526-399 CMW | RWMA Class 11 - 10W | RWMA Class 2 - C18200 | 5/8 - 18 | 2.81300 | 1.25 | 0.39900 | 2.000 | 10 mm | 0.250 | IN | 1/8 - NPT |
| 275-16-37526-444 | 16-37526-444 CMW | RWMA Class 11 - 10W | RWMA Class 2 - C18200 | 5/8 - 18 | 2.81300 | 1.25 | 0.44400 | 2.000 | 7/16 | 0.250 | IN | 1/8 - NPT |
| 275-16-37526-477 | 16-37526-477 CMW | RWMA Class 11 - 10W | RWMA Class 2 - C18200 | 5/8 - 18 | 2.81300 | 1.25 | 0.47700 | 2.000 | 12 mm | 0.250 | IN | 1/8 - NPT |
| 275-16-37526-502 | 16-37526-502 CMW | RWMA Class 11 - 10W | RWMA Class 2 - C18200 | 5/8 - 18 | 2.81300 | 1.25 | 0.50200 | 2.000 | 1/2 | 0.250 | IN | 1/8 - NPT |